Welcome to our book website and our mission: to help you share Jesus with your friends, neighbors, co-workers, relatives and anyone that God brings into your life and puts on your heart. We are now also offering an online evangelism class at BeADisciple.com through the Christian education ministry of the Institute for Discipleship at Southwestern College using our book as the course text.
What People are Saying:
"Evangelism you can use! The book and course show you how anyone can bring others to Christ; not a bunch of theories or systems, just simply how to share the love of Jesus with another and give them the path to salvation…
I've gone to a LOT of evangelism classes–none of them were as "user friendly" as the methods taught in your book."
Pastor Shaun Smith, Fort Grove United Methodist Church
Stony Creek, Virginia

"I think the value of this course for me was the way that the material and questions helped me reflect on my personal evangelism efforts and apply it to my own situation. I really liked the use of personal anecdotes from Nancy's life experience as it helped me understand the application of the information she offered us."
Rev. Jim Richards, Pastor, Kenova United Methodist Church
Kenova, West Virginia

"I am trying to begin to share my faith with people. I want to talk with others about Jesus. I took this course and read Nancy Golden's book because it seemed to offer a different approach. I feel that some of the classic techniques turn people off and I am not comfortable with them. I was not disappointed. I learned a lot from this course/book. It offers multiple ways to approach many different kinds of people. It offers a chance to practice. I need a lot of practice!"
Deb Montgomery
Oak Hollow Tennessee
"I have taken several classes through Be A Disciple and this class was the best! I love the way you instruct--and I loved your book. I learned alot and am looking forward to having you teach another class soon! This class is a must...no matter how much training you have had!!!"
Maria Miller
Weyers Cave, Virginia

"The book that comes with the course "The Second Greatest Commandment meets The Great Commission" is a wonderful and quick read. It will lead anyone down the path of being able to reach out and do Evangelism in their community with little or no trouble. Easy to understand and truly factual in all respects to the concepts of Evangelism for the modern day."
Ralph Chubbuck
East Stroudsburg, Pennsylvania

"My final thoughts are thank you, thank you, thank you. I learned so much from this course and can't wait to use it in my everyday life. I take my job of evangelism very seriously and this course will help me to fulfill my obligations to the Lord. I really enjoyed the conversations with my classmates and I think this was a very successful class with some great participation. I really appreciate all the effort and time and preparation you put into this class."
Elaine Short
Coram, New York
"It [The Second Greatest Commandment Meets the Great Commission] is balanced, practical, and clearly communicated."
Steve Niermann
Dallas,Texas
You can get more information about the class here.
"I believe that evangelism is the responsibility of every Christ-follower. The Book of Acts shows us that believers witnessed the Gospel as a part of the Christian life, rather than seeing it as an activity reserved for planned occasions. Acts 8:4, 'Those who had been scattered preached the word wherever they went.' (NIV) Rather than a separate activity for a special few, we should view evangelism in the same light as the church did in New Testament times." - Nancy Golden
DO YOU WANT TO SHARE YOUR FAITH BUT:
You are not quite sure how to begin?

You don't think you are qualified?

The thought of bringinging up Jesus to others who are not Christians makes you nervous?

You took a spiritual gifts test and scored low on evangelism?

You are not sure if you are supposed to?

You are not sure what to say and when?

You are afraid you might fail?

You want to have a better understanding of how to share the Gospel first?
I understand how you feel - I felt much the same way! I thought I had to know more or be a Christian longer, and besides, I never got "evangelist" on my spiritual gifts test results! What I have found is that none of these reasons are really valid... each of us are called by our Lord Jesus Christ to share our faith in obedience to the Great Commission. Which means you don't have to be a Christian for several years or a seminary trained theologian - God uses ordinary people! I love the following quote by John MacArthur:
"What is God's plan to deal with this darkened, decaying world? His plan is us! There is no one else. It isn't going to be given to anyone else. It doesn't belong to famous evangelists. They'll never touch the people you touch. It doesn't belong to great preachers, or people on the radio or television, or people who write books. It belongs to all of us. This is God's divine plan."
The Second Greatest Commandment (Matthew 22:36-40) tells us to love our neighbors as ourselves and The Great Commission (Matthew 28:16-20) tells us to go and make disciples. By combining these two commandments from our Lord, we are able to share our faith with those around us in a natural way: by building relationships and allowing the Holy Spirit to work through us as our relationships progress. In the pages of this book you'll find ways that you can share the Gospel that are both comfortable for you and effective and since it is all about sharing the love of Christ by building relationships with those around you and allowing the Holy Spirit to work through you - the pressure is off! God will use you in the ways that He has gifted you, and when we understand that it is our job to be obedient, but the end results are His, we are free to focus on building relationships rather than trying to follow a preplanned agenda.

In the book The Second Greatest Commandment Meets the Great Commission - How to Love Your Neighbors to Christ, you will learn about why you should evangelize and how to go about it, with plenty of examples and encouragement along the way. You won't find a huge, scholarly tome here - but an easy to read book that is intentionally not very long. We think you will find it very convenient to fit this study into even the busiest of schedules, yet gain the tools you need to approach evangelism with joy and confidence. Eight chapters lend itself well to an eight-week group study but it can also be read individually at a more rapid pace or adjusted to fit into a seminar format. The discussion questions are designed to give you ideas on how to share your faith and the appendix provides real, thought-provoking stories to inspire you, as you begin your own journey of reaching out to others. I hope you find this book a blessing as you strive to share God's incredible grace through His Son Jesus Christ with those who like each of us, are in desperate need of our Savior!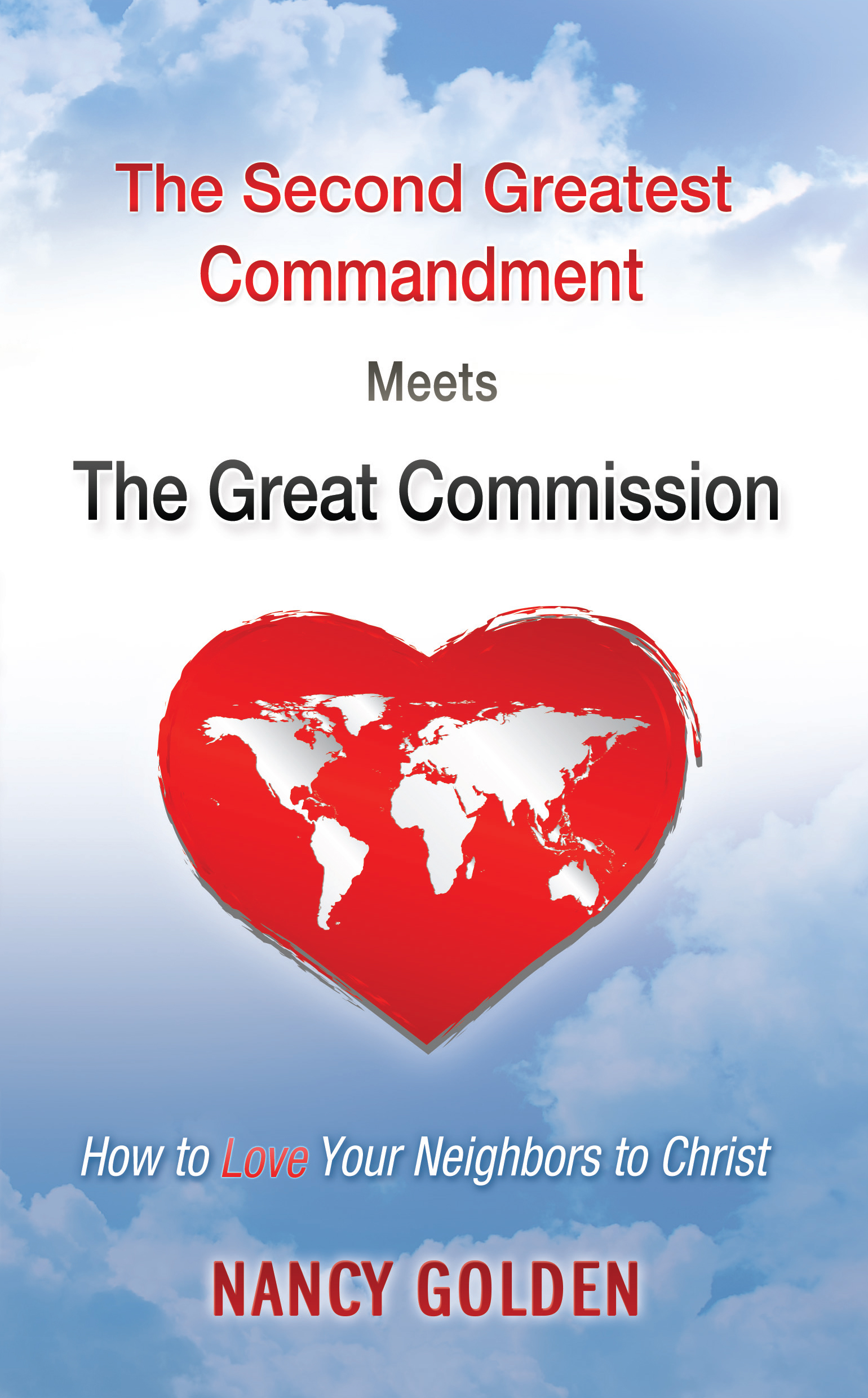 We also accept checks by mail. Please order by phone at 972-242-8080 or email at nancy@love2christ.com and mail your check to:
Golden Cross Ranch LLC
2919 Mill Trail
Carrollton, TX 75007
Texas residents please include 8.25% sales tax = $19.43 per book
Volume Discounts and Partial Scholarships May Be Available: Please contact us at nancy@love2christ.com for more information.
If you would like your copy personalized for free, please email me with your request at nancy@love2christ.com when you place your order, along with the name you would like it addressed to.
Philippians 4:8
"And now, dear brothers and sisters, one final thing. Fix your thoughts on what is true, and honorable, and right, and pure, and lovely, and admirable. Think about things that are excellent and worthy of praise."
This scripture represents what we try to do in all of our all of our endeavors, ministry and otherwise - to focus on excellence. In writing this book, you can be sure that we are giving you our best effort to create a tool that meets a real need in sharing the Gospel and helps you grow closer to the Lord. I hope you will see the foundation that our company stands on - how a loving God sent His only Son to die for us so that our imperfections can be washed away for a place in heaven that awaits the end of our earthly journey. My prayer is that through this book you may feel led and equipped to share Him with others. God bless you and your evangelistic endeavors in His Name!
Please email any comments or questions to Nancy Golden at nancy@love2christ.com
Copyright 2009-2019 Golden Cross Ranch, LLC